Balinese Music & Performance
---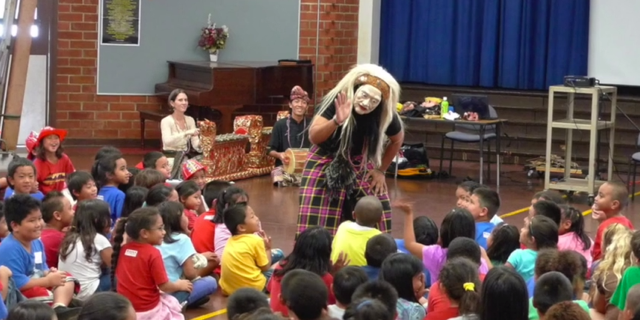 Teachers Resource Guide to Balinese Performing Arts
UH Mānoa Asian Theatre Program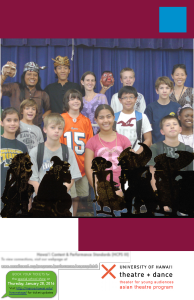 Aloha Educators! Welcome, and Selamat Datang! The UH Mānoa Asian Theatre Program is pleased to bring Wayang Listrik to the children and youth of Hawai'i. Wayang Listrik is a modern Balinese theatre genre based on traditional shadow puppetry (wayang kulit) with accompanying dance and music, all transferred to a large 30 x 15 foot screen. The show comes alive with traditional carved leather puppets, shadow-actors, dancers, and gamelan music. The 2016 production which will run from January 22 to 31, 2016, features a brand new script by Balinese master artist Ketut Wirtawan based on the Sugriwa-Subali episode of the classical Hindu text Ramayana. This educational resource guide includes materials and resources to introduce you and your students to traditional and contemporary Balinese performing arts. Wayang listrik combines elements and sensibilities of the ancient storytelling tradition of shadow puppets or wayang kulit with multimedia technology accessible to today's contemporary theatre arts.
More Information
Balinese Dance, Drama and Music
I Wayan Dibia (Author), Rucina Ballinger (Author), Barbara Anello (Author)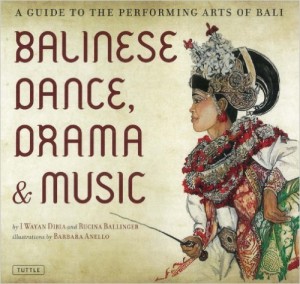 The dances, dramas, puppetry and music of Bali are more than icons for the island; they are part and parcel of life—as expressions of devotion to the gods, as entertainment, and as a way of instilling cultural values on each generation. Balinese Dance, Drama & Music is a lavishly illustrated introduction to Bali's celebrated temple orchestra, the gamelan, to its ancient shadow puppet theater, and to a myriad of traditional and contemporary dances and dance-dramas that continue to enthrall locals and visitors alike. Ideal reading for visitors to the island as well as for anyone interested in Balinese culture, the book presents the history and function of each performance genre, with illustrations and photographs to aid in identification. Introductory sections discuss the way performing arts are learned in Bali and the basic Balinese values which are passed on in these forms, as well as some of the basic religious and cultural tenets that are expressed in the arts and the functions of the forms themselves. Different sections describe particular forms of performing arts, such as Gong Angklung, Legong, the Keraton dance, Wayang Kulit, and women's gamelan groups.
More Information
Improvisation and Composition in Balinese Gendér Wayang
Nicholas Gray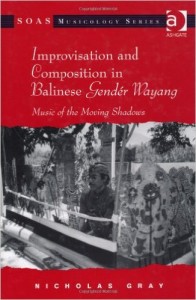 This book is an examination of the music of the Balinese gender wayang, the quartet of metallophones – gender – that accompanies the Balinese shadow puppet play – wayang kulit. The book focuses on processes of musical variation, the main means of creating new music in this genre, and the implications of these processes for the social and historical study of Balinese music, musical aesthetics, concepts of creativity and compositional methods. Dr Nick Gray tackles a number of core ethnomusicological concerns in a new way, including the relationship between composition and improvisation, and also highlights issues specific to Balinese music, including the importance of flexibility in performance, an aspect that has been largely ignored by scholars. Gray thus breaks new ground both in the study of issues relating to improvisation and composition and in Balinese music studies.
More Information
Balinese Discourses on Music and Modernization: Village Voices and Urban Views
Brita Renee Heimarck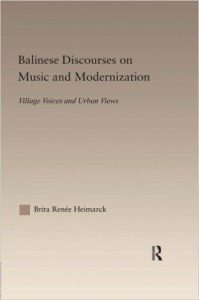 While many Western scholars have discussed the technical aspects of Balinese music or the traditional contexts for performance, little has been written in Western languages about Balinese discourses on their music. This dissertation seeks to understand the experience of music in Bali according to Balinese voices through an analysis of oral and written dialogues on music, mainly by musicians and dalangs (shadow play puppeteers) from the village of Sukawati, scholars, teachers, administrators and students from the Indonesian College of the Arts (STSI) in the City of Denpasar. The study examines the influence of modernization on the traditional arts and their role in society. A concentration on Balinese discourses enables individual performers and scholars to represent themselves to a greater extent than previously seen in ethnomusicological scholarship, making this study more of a critical discussion among equals than a Western interpretation of 'others'. This approach permits a rare view into contemporary Balinese conceptions and practices of music.
More Information
---
Book Program Info
List Book Archive by Date
List Book Archive by Category