Voices from Myanmar: Stories of Struggle and Strength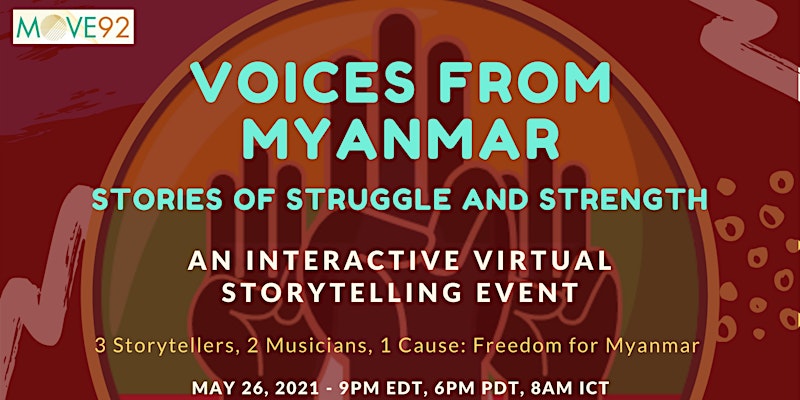 Voices from Myanmar: Stories of Struggle and Strength
Date & Time: Tue, May 25, 2021 3:00 PM – 4:30 PM HST
Register here.
Move92 brings you Voices from Myanmar, an interactive storytelling event where they bring you stories from people from Myanmar.
In February 2021, the Myanmar Military Junta committed a violent coup removing the democratically elected government. Since then the government has killed hundreds of civilians and violently attack peaceful protestors every day. Regardless of the risks, the people of Myanmar continue to fight back against the military junta in an effort to bring back the democracy they demand.
In this event, three storytellers from Myanmar will share their stories to help you understand what people are experiencing now and have been experiencing under the reign of the violent military since the inception of the country.
Not only will you get a chance to hear their stories we will also be bringing you performances from two different musical performances. At the beginning of each story, the storyteller will pose a question to the audience, which you will get to discuss in small groups with other event participants.