Indonesia's location on the edges of the Pacific, Eurasian, and Australian tectonic plates makes it the site of numerous volcanoes and frequent earthquakes. Indonesia has at least 150 active volcanoes. The eruption of the Toba super volcano, approximately 70,000 years ago, was one of the world's largest eruptions and a global catastrophe. Recent disasters due to seismic activity include the 2004 tsunami and the Yogyakarta earthquake in 2006. However, volcanic ash is a major contributor to the high agricultural fertility, which sustains the high populations of Java and Bali.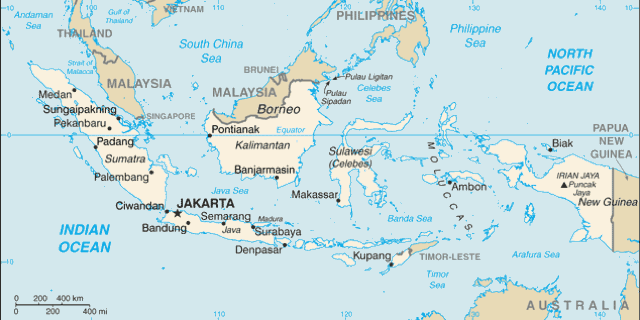 The Dutch began to colonize Indonesia in the early 17th century; Japan occupied the islands from 1942 to 1945. Indonesia declared its independence shortly before Japan's surrender, but it required four years of sometimes brutal fighting, intermittent negotiations, and UN mediation before the Netherlands agreed to transfer sovereignty in 1949. A period of sometimes unruly parliamentary democracy ended in 1957 when President SOEKARNO declared martial law and instituted "Guided Democracy." After an abortive coup in 1965 by alleged Communist sympathizers, SOEKARNO was removed from power. From 1966 until 1988, President SUHARTO ruled Indonesia with his "New Order" Government. After rioting toppled Suharto in 1998, free and fair legislative elections took place in 1999. Indonesia is now the world's third most populous democracy, the world's largest archipelagic state, and world's largest Muslim-majority nation. Current issues include: alleviating poverty, improving education, preventing terrorism, consolidating democracy after four decades of authoritarianism, implementing economic and financial reforms, stemming corruption, reforming the criminal justice system, holding the military and police accountable for human rights violations, addressing climate change, and controlling infectious diseases, particularly those of global and regional importance. In 2005, Indonesia reached a historic peace agreement with armed separatists in Aceh, which led to democratic elections in Aceh in December 2006. Indonesia continues to face low intensity armed resistance in Papua by the separatist Free Papua Movement.
Books Films Music Perform.   Talks Videos 
Area Specialists UH Mānoa Indonesian & Malay Language & Literatures Indonesian at Kapi'olani Community College Wayang Listrik: Music & Dance of Bali

Most Recent Indonesia Posts:
Margareta Taub Kapitan's success in a women's weaving group is intimately connected with the sweeping political changes that overtook Indonesia during the Suharto era.
Still in her thirties, Siti Samsiyah is the moving force behind a batik enterprise on the island of Madura.
Rambu Pakki & Rambu Tokung discuss their collection of pahudu, devices that preserve complex textile patterns.

In this menu, you will find a wide range of online resources and educational modules for educators and community people interested in Southeast Asia. Resource descriptions and links may be viewed by clicking on the Online Resources header.
Please contact us with suggestions on educational links which would be useful to you!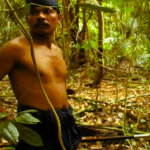 This documentary by University of Hawaiʻi Asian Studies Master's student Sapril Akhmady, available for download or streaming, begins at a time when the Ammatoa people of Sulawesi in Indonesia are feeling deeply disturbed about ongoing changes in their community. They feel as if they are facing currents of transformation that will fundamentally affect their culture and their traditional way of life. The system of agriculture has been changed; machines for activities like paddy pounding have been introduced, modern roads have been built around villages, and customary land has been taken away. Underlying all of these changes is the fact that traditional knowledge has been lost and that the younger generation is less concerned about retaining this knowledge.
Sapril Akhmady also wrote an article on the Ammatoa available for download.
Cakalele is a journal devoted exclusively to publishing the results of research in and about Maluku, as well as the Maluku communities scattered through Indonesia and the Netherlands. The past years have witnessed the rapid growth of Maluku as an area of study in many diverse scholarly fields, in both the humanities and the sciences. Despite this increase in research and analysis there is no forum for exchange of information and theory. The absence of an area-focused academic journal in this critical period of growth and exchange inhibits the development of muliti-disciplinary scholarship. Cakalele is based on the notion that by restricting the scope of coverage to one geographical area, scholarly perspective can expand to encompass the results, notions, and methodologies of other fields of study. There are points of intersections which become all the more important in the confines of an area-focused medium of exchange.
Individual articles for Cakalele are now available for download, for free, on ScholarSpace, the University of Hawaii's Institutional Repository for academic papers, research, journals, podcasts and more.
Please contact the new publishers of Cakalele, Museum Maluku in Utrecht, The Netherlands, for information on the future of the journal!


Visit Specific Country Pages Below: