New Releases on Cambodia
---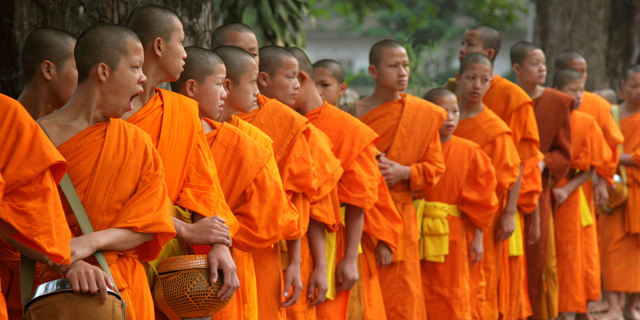 Electoral Politics in Cambodia: Historical Trajectories and Current Challenges
Aurel Croissant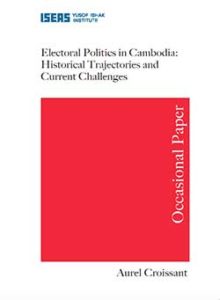 After more than two decades of post-conflict reconstruction, Cambodia's political system remains in flux. Democracy is not yet firmly consolidated, and the country's politics is trapped in untamed confrontation, and the transformation of enemies into adversaries has yet to occur. Yet perhaps the most disturbing phenomenon with regard to elections is the notable rejection of democratic norms. This monograph studies the various aspects of electoral politics in Cambodia and ends with strong suggestions for reforms that can strengthen the practice of elections and aid social and political development in a country trying to transit from civil war to post-conflict reconstruction, from socialist one-party state to multiparty electoral system, and from planned economy to market economy. This monograph is based on a conference paper presented at the 14th KAS Law Talk on Fairness and Integrity of the Electoral Process in Cambodia, organized by Konrad Adenauer Stiftung's Cambodia Office on 17-18 June 2016
Transitional Justice and Memory in Cambodia: Beyond the Extraordinary Chambers Peter Manning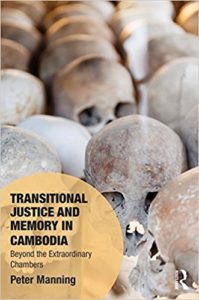 Memories of violence, suffering and atrocities in Cambodia are today being pulled in different directions. A range of transitional justice practices have been put to work in the name of redressing, restoring and renewing memory. At the centre of this stage is the Extraordinary Chambers in the Courts of Cambodia (ECCC), a hybrid tribunal established to prosecute the leaders of the Khmer Rouge regime, under which 1.6 million Cambodians died of hunger or disease or were executed. This book unpicks the way memory is reconstructed through appeals to a national memory, the legal reframing and coding of memories as crimes and bids to locate personal memories within collective biographies. Analysing the techniques and interventions of the ECCC, as well as exploring the role of non-governmental organisations (NGOs) and understanding the relationships in which Cambodian communities relate to memory of political violence, this book is essential in understanding transitional justice in Cambodia in, and beyond, the courtroom. Transitional Justice and Memory in Cambodia shows that the governing logic of transitional justice interventions – that societies are unable to 'deal with' memories of atrocity and violence without some form of transitional justice mechanism – neglects the complexity of memory and remembering in post-atrocity contexts and the agency of the subjects to which such mechanisms are addressed. Drawing on documentary sources, legal transcripts, interviews and participant observation data, the book situates transitional justice processes in Cambodia within a wider context of social and cultural memory politics, examining (old and new) conflicts of memory that have emerged between the varied accounts and uses of the past that exist in Cambodia now. As such, it will appeal to students and scholars in sociology, human rights, law and criminology.
More Information
Man or Monster?: The Trial of a Khmer Rouge Torturer
Alexander Laban Hinton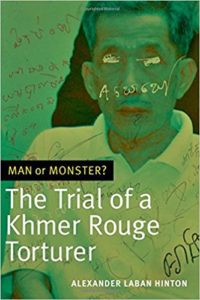 During the Khmer Rouge's brutal reign in Cambodia during the mid-to-late 1970s, a former math teacher named Duch served as the commandant of the S-21 security center, where as many as 20,000 victims were interrogated, tortured, and executed. In 2009 Duch stood trial for these crimes against humanity. While the prosecution painted Duch as evil, his defense lawyers claimed he simply followed orders. In Man or Monster? Alexander Hinton uses creative ethnographic writing, extensive fieldwork, hundreds of interviews, and his experience attending Duch's trial to create a nuanced analysis of Duch, the tribunal, the Khmer Rouge, and the after-effects of Cambodia's genocide. Interested in how a person becomes a torturer and executioner as well as the law's ability to grapple with crimes against humanity, Hinton adapts Hannah Arendt's notion of the "banality of evil" to consider how the potential for violence is embedded in the everyday ways people articulate meaning and comprehend the world. Man or Monster? provides novel ways to consider justice, terror, genocide, memory, truth, and humanity.
The Handbook of Contemporary Cambodia Editors: Katherine Brickell and Simon Springer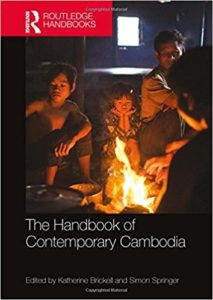 Offering a comprehensive overview of the current situation in the country, The Handbook of Contemporary Cambodia provides a broad coverage of social, cultural, political and economic development within both rural and urban contexts during the last decade. A detailed introduction places Cambodia within its global and regional frame, and the handbook is then divided into five thematic sections: Political and Economic Tensions, Rural Developments, Urban Conflicts, Social Processes, and Cultural Currents. The first section looks at the major political implications and tensions that have occurred in Cambodia, as well as the changing parameters of its economic profile. The handbook then highlights the major developments that are unfolding within the rural sphere, before moving on to consider how cities in Cambodia, and particularly Phnom Penh, have become primary sites of change. The fourth section covers the major processes that have shaped social understandings of the country, and how Cambodians have come to understand themselves in relation to each other and the outside world. Section five analyses the cultural dimensions of Cambodia's current experience, and how identity comes into contact with and responds to other cultural themes. Bringing together a team of leading scholars on Cambodia, the handbook presents an understanding of how sociocultural and political economic processes in the country have evolved. It is a cutting edge and interdisciplinary resource for scholars and students of Southeast Asian Studies, as well as policymakers, sociologists and political scientists with an interest in contemporary Cambodia.