Webinar: The South China Sea: China, Southeast Asia, and Maritime Security
---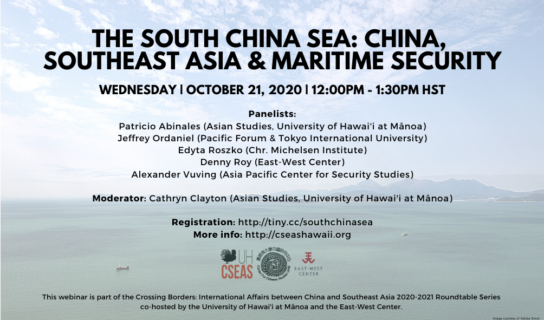 Date: Wednesday, October 21, 2020
Time: 12:00pm – 1:30pm HST (6:00pm – 7:30pm EST)
Register here!: https://tiny.cc/southchinasea
Abstract:
The South China Sea is one of the most important strategic corridors in the world: it is a crucial shipping lane, lucrative fishing ground and home to huge gas and oil reserves. Most nations in the region — China, Taiwan, Brunei, Cambodia, Indonesia, Malaysia, Myanmar, the Philippines, Singapore, Thailand and Vietnam – lay claim to at least part of this Sea, and in recent years China has been especially assertive about its claims to nearly all of it. Vietnam, the Philippines and Malaysia have challenged these claims, making it one of Asia's most volatile hotspots for conflict.
Participants:
Moderated by: Cathryn Clayton (Asian Studies, University of Hawai'i at Mānoa)
This webinar is part of the Crossing Borders: International Affairs between China and Southeast Asia 2020-2021 Roundtable Series co-hosted by the University of Hawai'i at Mānoa and the East-West Center.