Webinar: China's BRI in Southeast Asia and Future Prospects
---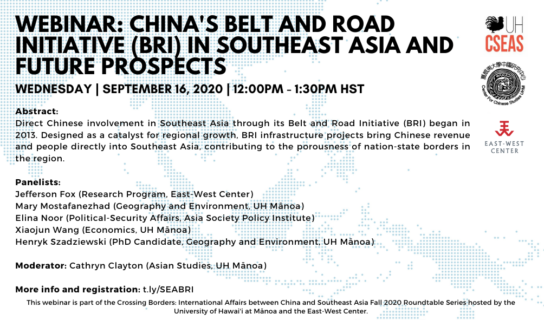 Date: Wednesday, September 16, 2020
Time: 12:00pm – 1:30pm HST
Registration: here!
Abstract
Direct Chinese involvement in Southeast Asia through its Belt and Road Initiative (BRI) began in 2013. Designed as a catalyst for regional growth, BRI infrastructure projects bring Chinese revenue and people directly into Southeast Asia, contributing to the porousness of nation-state borders in the region.
Speaker Bios
Jeff Fox is a Senior Fellow in the Research Program at the East-West Center. He conducts research on land-use and land-cover change in Southeast Asia and the impact of these changes on the region and the global environment. His work links land-use and land-cover changes to macro-scale changes in the political economy of each country, and to local-scale impacts on different segments of the communities studied. His current projects include 'The agrarian transition in Mainland Southeast Asia: Changes in rice farming—1995 to 2018' and 'Forced and truncated agrarian transitions in Asia through the lens of field size change.' He holds a Ph.D. in development studies from the University of Wisconsin, Madison.
Elina Noor is Director for Political-Security Affairs at the Asia Society Policy Institute and formerly associate professor, College of Security Studies at the Daniel K. Inouye Asia-Pacific Center for Security Studies in Honolulu. A native of Malaysia, Elina studies security developments in Southeast Asia. Her research is focused on extremism and the intersection of international security and international law with cyberspace. Previously, Elina was Director, Foreign Policy and Security Studies at the Institute of Strategic and International Studies in Malaysia and was a member of the Brookings Institution's Project on US Relations with the Islamic World in its formative years post-9/11.
Mary Mostafanezhad is an associate professor in the Department of Geography and Environment at the University of Hawai'i at Mānoa. Published in eight authored and co- edited books and more than 75 peer-reviewed journal articles and book chapters (see Google Scholar for a list of her publications), her work is broadly focused on development and socio-environmental change in Southeast Asia.
Xiaojun Wang is an associate professor at University of Hawai'i Department of Economics and Center for Chinese Studies. He earned his Ph.D. in economics from the Ohio State University. He teaches courses on macroeconomics, monetary economics, and Chinese economic development, and conducts research on monetary economics and Chinese labor market transition and education returns. He has published articles in top journals including the Review of Economics and Statistics, Journal of Development Economics, Economic Inquiry, Journal of Comparative Economics. He is on the editorial board of academic journal China Economic Review, and has served as an oversea expert for China National Natural Science Foundation. His current projects investigate the relationship between human capital, migration, and economic inequality and development.
Henryk Szadziewski is a Ph.D. Candidate at the Department of Geography and Environment at the University of Hawaiʻi at Mānoa and Director of Research at the Uyghur Human Rights Rights Project in Washington, DC. His current research focuses on the people-to-people encounters of the Belt and Road Initiative in Fiji.
Cathryn Clayton is associate professor and Chair of the Asian Studies Program ​at the University of Hawaiʻi at Mānoa. With more than 20 years' experience in Macau, Cathryn will moderate this webinar series. Her focus on conceptions and practices of Chinese sovereignty throughout and after colonial interventions offers insights on the political impacts of BRI in Southeast Asia.
This webinar is part of the Crossing Borders: International Affairs between China and Southeast Asia Fall 2020 Roundtable Series hosted by the Center for Southeast Asian Studies and Center for Chinese Studies, University of Hawaiʻi at Mānoa and the East-West Center.