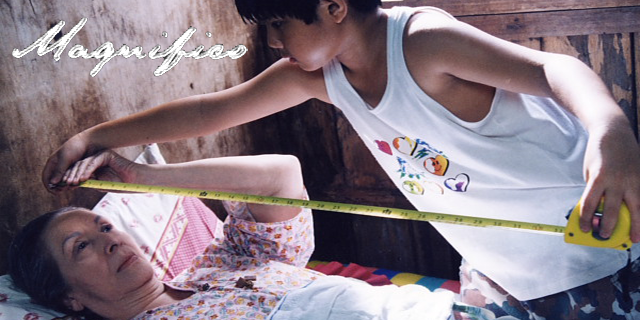 Wednesday, 1 September
6:30 p.m. – Korean Studies Auditorium
Philippines 2003 (120 min)
Tagalog with English subtitles
Dir: Maryo J. De Los Reyes
Screenplay: Michiko Yamamoto
Cast: Lorna Tolentino, Albert Martinez, Gloria Romero, Celia Rodriguez, Mark Gil, Tonton Gutierrez, Jiro Manio, Amy Austria, Cherry Pie Picache, Isabella de Leon
Inay (Lorna Tolentino) speaks for many when she says, "Life is a never-ending misery."
Her 7-year-old daughter, Helen (Isabella de Leon), has cerebral palsy, has never spoken a word and requires as much care as an infant. Her teenage son has lost his scholarship and come home from Manila to an uncertain future. Her other son, 9-year-old Magnifico (Jiro Manio), doesn't show much promise beyond being a really sweet kid. Her beaten-down husband (Albert Martinez) has been working on the same Rubik's cube for a year.
And she has just learned that her mother-in-law, who lives with them, has pancreatic cancer. That's one more helpless person to care for, and they have no idea where they're going to get the 30,000 pesos or so (several months' salary for a schoolteacher, we are told) it will take to bury her.
But the hopefully named Magnifico, in the tradition of omniscient innocents in international films, is determined to help — and to charm everyone the way movie characters occasionally do, just by treating impending death matter-of-factly. He sets out to earn enough money for his grandmother's funeral, buy her a beautiful white dress to be buried in and gather enough scrap wood to build the coffin himself. But this drama isn't as maudlin as it sounds, thanks to the leading actors' fine, understated performances. (Anita Gates, New York Times)
Magnifico was awarded Best Feature Film at the Hawaii International Film Festival (2003) and the Deutsches Kinderhilfswerk Grand Prix at the Berlin International Film Festival (2004). It is being shown here with a new subtitle track produced by Brigida Schmidt, a student in our Spring 2010 subtitling course.
Trailer:

IMDB | Wikipedia | NYTimes Review | Film Otaku Review | Download Poster
Please support the filmmaker by purchasing their film!
Distributor: UNKNOWN. If you have any information about where to buy this film, let us know!